Sunday, June 27, 2010 at 7:17PM
During Harvest of Hope Fest this year we kept getting friends and lovers trying to meet up with us in the artist area. Invariably everyone would want to meet at the most glaring un-miss able thing in the sea of tens / buses / cars / unwashed punk woodsmen. This meeting landmark happened to be a huge vintage bluebird bus painted red, with zebra stripes, a bio-diesel / WVO system in there, some bunk beds, hammocks and general psychedelic energy. On the back of the bus it said www.lighthousemusicband.com, and I was told that the constant stream of people coming in and out of it were indeed the band, which had a rumored ManMan meets AnimalCollective while ocassionally channeling the Thermals sound. We decdided that we would certainly like to see that to believe it.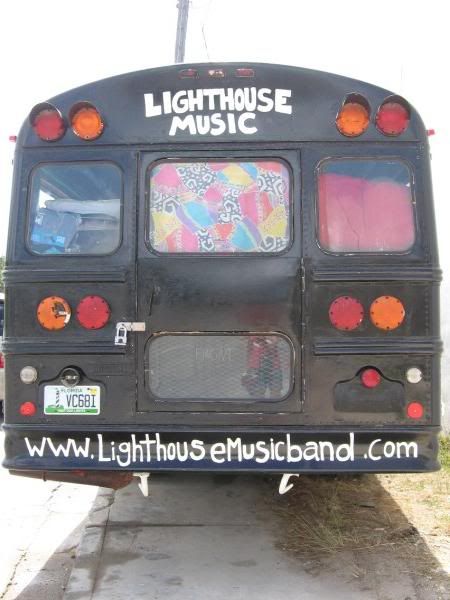 Fast forward to last night, where (after some serious distrations in Athens Georgia that morning, and some seriously beautiful scenic driving) we arrived at a warehouse open air stage attached to a surfboard making shop with a field full of St.Augustine's music lovers drinking cold keg beer well into the evening hours. Dubbed the Strawberry Moon Fest it was a very loving affair with a ton of bands from as far away as Maine, and an audience that was nothing but appreciative.
We caught part of the set of Hyena, rapped with our friends in Tam Tam the Sandwich Man, and stuck it out till the end of the event to see the GAZE who reminded us of some of the best slacker rock of the early 1990's. But the standout was the host of the event, Lighthouse Music, who had their iconic looking bus parked out back, with a steady stream of people in and out of it, a stage set up that consisted of members swapping instruments and everyone singing. The music is not easy to describe, but it is worth the listen, and especially the good time and live show they put on, and we hope to see them again on the road.
A list of the bands for posterity...
> Mono Mojado 1:00 - 1:45
> Roll Out The Guns 2:05 - 2:40
> The Gaze 3:00 - 3:30
> Andrew Virga 3:45 - 4:15
> Dirty Fist! 4:30 - 5:00
> Best Of Synthia 5:20 - 6:00
> Fancy Feast 6:20 - 6:45
> Attachedhands 7:05 - 7:30
> Tam Tam The Sandwichman 7:50 - 8:20
> Bermuda 8:40 - 9:10
> Hyena 9:30 -10:00
> The Beauvilles 10:20 - 11:00
> Lighthouse Music 11:30 - ?